ACM Eugene L. Lawler Award for Humanitarian Contributions within Computer Science
How to Nominate
Overview
The Eugene L. Lawler Award for Humanitarian Contributions within Computer Science and Informatics recognizes an individual or group who has made a significant contribution through the use of computing technology. The award is presented in alternate years, at the June Awards Banquet and is accompanied by a prize of $5,000 plus travel expenses to the banquet.
Next Deadline
January 15, 2021 - End of Day, Anywhere on Earth (EoD, AoE, UTC -12 hrs.)
Selection Criteria
The award is defined broadly. The professional credentials of the recipient(s) are not important and s/he need not have earned a degree, published a paper, or even be considered a computing professional. The committee evaluates nominations on the basis of the candidate's impact in terms of humanitarian contributions within the field of computing. Some examples of the types of contributions that might be recognized are: application of computer technology to aid the disabled; educational contributions using computers or computer science in inner city schools; creative research concerning intellectual property issues; expansion of educational opportunities in computer science for women and underrepresented minorities; or application of computers or computing techniques to the problems of developing countries.
Submissions
Nominations for the Eugene L. Lawler Award should be submitted using the online nomination form. Submitted materials should explain the contribution in terms understandable to a non-specialist. Each nomination involves several components:
Name, address, phone number, and email address of nominator (person making the nomination). The most appropriate person to submit a nomination would be a recognized member of the community who is not from the same organization as the candidate and who can address the candidate's impact on the broader community.

Name, address, and email address of the candidate (person being nominated). It is ACM's policy not to tell candidates who has nominated or endorsed them.

Suggested citation if the candidate is selected. This should be a concise statement (maximum of 25 words) describing the key technical or professional accomplishment for which the candidate merits this award. Note that the final wording for awardees will be at the discretion of the Award Committee.

Nomination statement (200-500 words in length) addressing why the candidate should receive this award. This may describe the candidate's work in general, but should draw particular attention to the contributions that merit the award.

Copy of the candidate's CV, listing publications, patents, honors, service contributions, etc.

Supporting letters from at least 3, and not more than 5, endorsers. Endorsers should be chosen to represent a range of perspectives and institutions and provide additional insights or evidence of the candidate's impact. Each letter must include the name, address, and telephone number of the endorser, and should focus on the accomplishments which that endorser can attest to and place in context. The nominator should collect the letters and bundle them for submission.
For questions on the above, please contact us at acm-awards@acm.org, or Jade Morris, ACM Awards Committee Liaison. ACM's conflict-of-interest guidelines apply to all award nominations.
For Practitioners
ACM Queue's "Research for Practice" serves up expert-curated guides to the best of computing research, and relates these breakthroughs to the challenges that software engineers face every day. This installment, "The DevOps Phenomenon" by Anna Wiedemann, Nicole Forsgren, Manuel Wiesche, Heiko Gewald and Helmut Krcmar, gives an overview of stories from across the industry about software organizations overcoming early hurdles of adopting DevOps practices, and coming out on the other side with tighter integration between software and operations teams, faster delivery times for new software features, and achieving higher levels of stability.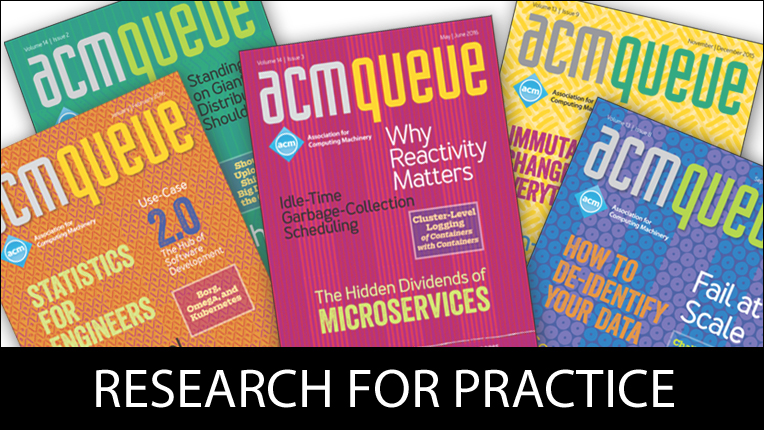 Written by leading domain experts for software engineers, ACM Case Studies provide an in-depth look at how software teams overcome specific challenges by implementing new technologies, adopting new practices, or a combination of both. Often through first-hand accounts, these pieces explore what the challenges were, the tools and techniques that were used to combat them, and the solution that was achieved.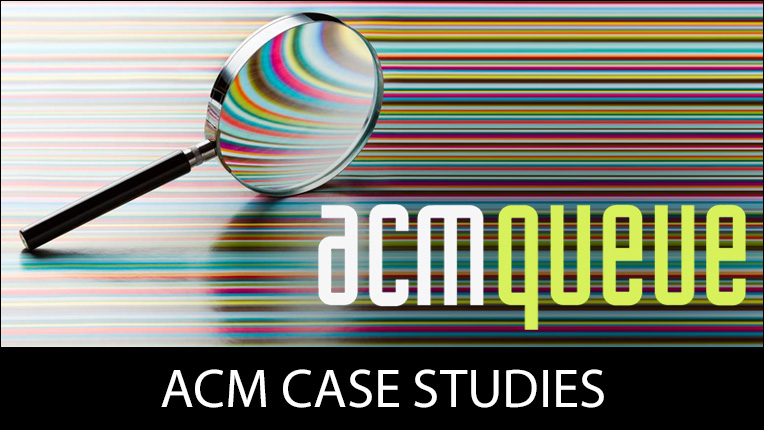 Why I Belong to ACM
Hear from Bryan Cantrill, vice president of engineering at Joyent, Ben Fried chief information officer at Google, and Theo Schlossnagle, OmniTI founder on why they are members of ACM.