ACM India Outstanding Contributions in Computing by a Woman Award
Nominations
Overview
The ACM India Outstanding Contributions in Computing by a Woman (OCCW) Award recognizes women professionals who have made fundamental, innovative, impactful contributions to the computing field primarily working in India. In addition to acknowledging such contributions, the ACM India Council also believes that the award will bring international visibility to the contribution, provide role models for women in computing from India and nurture the candidates for future international recognition.
The award carries a prize of ₹7 lakhs (approximately USD $10,000). Financial support for this award is provided by Google.
Deadline
Nominations were due 14 September 2020. The winner was announced 4 November 2020.
Eligibility
The candidate must be currently residing in India and the contributions being considered for the award must have been carried out primarily while working in India.
The candidate can be from any walk of life in the broad field of computing, as understood in its general sense.
The candidate need not be an Indian national.
The candidate need not be a member of ACM.
There is an age limit of 50 years for the candidate as of 1 January of the year of nomination.
Nominations
No self-nomination is allowed.
The nominator should be a recognized member of the computing community who has personal knowledge of the candidate's contributions and can address the candidate's impact in the field of computing.
The committee may choose to keep a nomination in consideration for a period of up to 3 years from first submission, provided other eligibility criteria are met; details of the nomination may be updated if a nomination from a previous year is considered in a subsequent year.
Evaluation Criteria
Lasting contribution to computing community through factors including:
Research and innovation using computing methodology in core areas of computer science or interdisciplinary areas like genomics/computational biology, human-computer interaction, and
Demonstrated impactful work in empowering and inspiring women in computing.
Timelines and nature of the award:
The award will consist of a plaque and a prize of ₹7 lakhs.
The exact timeline for the 2021 edition will be announced by 30 June 2021. Tentatively the nominations deadline would be 31 August 2021 (11 pm IST), and the winner would be announced by 31 December 2021.
The award ceremony will be held during ACM India Annual Event in early February 2021, where the awardee may also be expected to deliver a talk on the contribution. The costs for the travel and stay will be borne by ACM India.
In the steady state, we plan to follow the above timelines each year, with any adjustments based on the learnings from the previous years.
Submissions
Nominations for the award should be submitted using the online ACM India Award nomination form (to be updated by 30 June 2021).
Submitted materials should explain the contribution in terms understandable to a non-specialist. Each nomination involves several components:
Name, address, phone number, and email address of the nominator (person making the nomination).
Name, address, and email address of the candidate (person being nominated). As a matter of policy, ACM India will neither reveal to the candidates who have nominated/endorsed them nor respond to any queries regarding a nomination once submitted.
Suggested citation if the candidate is selected. This should be a concise statement (maximum of 25 words) describing the key technical or professional accomplishment for which the candidate merits this award. Note that the final wording for awardees will be at the discretion of the Selection Committee.
2-page nomination statement/executive summary addressing why the candidate should receive this award. This may describe the candidate's work in general, but should draw particular attention to the contributions that merit the award. Here are some representative (but not prescriptive) details which may be included in the statement:

Research work done with special focus on last 3-5 years
Publications in reputed journals/conferences
Breakthrough thinking or innovative solutions in areas of computing (computer science or interdisciplinary): hardware, software or research
Any patents in their name
Scientific impact of their work
Any of their work being used in commercial world and has business impact
Potential for revolutionary impact in their field in the near future
Any impact on their organisation or community of their work, including visible impact in empowering and inspiring women in computing

Copy of the candidate's CV, listing publications, patents, honours, service contributions, etc.
Supporting letters from 3 endorsers. A nominator cannot also be an endorser. Endorsers should be chosen to represent a range of perspectives and institutions and provide additional insights or evidence of the candidate's impact. Each letter must include the name, address, and telephone number of the endorser, and should focus on the accomplishments that the endorser can personally attest to and place in context. The nominator should collect these letters and bundle them for submission.
For questions on the above, please contact us at acmindia_occw@india.acm.org. ACM's conflict-of-interest guidelines apply to all award nominations.
Written by leading domain experts for software engineers, ACM Case Studies provide an in-depth look at how software teams overcome specific challenges by implementing new technologies, adopting new practices, or a combination of both. Often through first-hand accounts, these pieces explore what the challenges were, the tools and techniques that were used to combat them, and the solution that was achieved.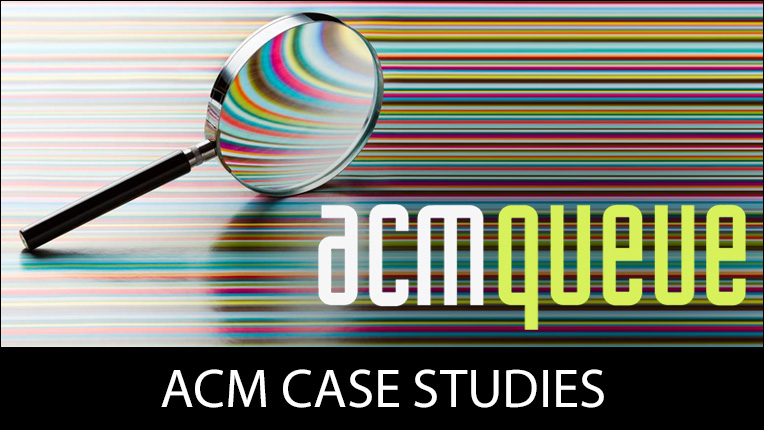 Why I Belong to ACM
Hear from Bryan Cantrill, vice president of engineering at Joyent, Ben Fried chief information officer at Google, and Theo Schlossnagle, OmniTI founder on why they are members of ACM.
Publish Your Work
ACM's prestigious conferences and journals are seeking top-quality papers in all areas of computing and IT. It is now easier than ever to find the most appropriate venue for your research and publish with ACM.