ACM India Doctoral Dissertation Award
How to Nominate
Overview
The ACM India Doctoral Dissertation Award was established in 2011 by ACM India with approval from the ACM Awards Committee. This award recognizes the best doctoral dissertation in Computer Science and Engineering from a degree-awarding institution based in India for each academic year. The award consists of a plaque and a cash component of Rs 2,00,000 and is additionally supported by Tata Consultancy Services Limited (TCS). TCS is the founding sponsor of the ACM India Doctoral Dissertation Award. In case of a joint award, the award amount will be shared equally among the recipients. Please see the ACM India Doctoral Dissertation Award page for additional information on current and past winners.
Eligibility
Each PhD granting institution based in India can normally nominate 1 student for the award. Institutions that produce more than 10 dissertations in relevant areas per year can nominate 2 students. Each dissertation nominated for the 2018 award must have been defended successfully between August 1, 2017 and July 31, 2018.
Deadline
Nominations must be received by August 31, 2018 to qualify for consideration of the 2018 award.
Publication and Copyrights
Winning dissertations will be published in the ACM Digital Library. Each nomination must be accompanied by an assignment to ACM by the author of exclusive publication rights, as per ACM's copyright policies. Copyright will automatically revert to an author if her/his dissertation is not selected.
Nomination Procedure
Candidates must be nominated by the department from which the PhD was completed.
Each nomination must include
Nomination letter by thesis advisor. This letter must include:

The name, address, and phone number of the advisor,

The name, mailing address and email address of the candidate, and

A one-page summary of the significance of the dissertation.

An endorsement letter by the department head or a suitable substitute.

One copy of the thesis in electronic format

A record of publications in conferences and journals of the work reported in the dissertation, along with their citations, if any.

A copyright transfer form filled out and signed by the candidate. Please use the Journals form downloadable from http://www.acm.org/publications/copyright_form for this purpose.
Optional
Supporting letters are helpful and a nomination can be supported by a maximum of five supporting letters from individuals who are familiar with the work. Each supporting letter must include the name, contact information, and telephone number of the supporter.
Mode of submission
Nomination material must be submitted electronically (in PDF or Word format) by the thesis advisor (not by the student). All nomination material for a nominee must be sent bundled as a zip file. Supporting letters should not come directly from the supporters—all necessary material, including supporting letters, may by collected and submitted by the thesis advisor, bundled as a zip file. The zip file must be uploaded to Easychair. The submission web page for ACM IDDA 2018 is https://easychair.org/conferences/?conf=acmidda2018.
Selection Procedure
Dissertations will be reviewed for technical depth and significance of the research contribution, potential impact on theory and practice, and quality of presentation. A committee of approximately ten eminent Computer Science researchers from across the world will perform an initial screening to generate a short list, followed by an in-depth evaluation to determine the winning dissertation.
For questions on the above, please contact acmindiaaward@acm.org
Why I Belong to ACM
Hear from Bryan Cantrill, vice president of engineering at Joyent, Ben Fried chief information officer at Google, and Theo Schlossnagle, OmniTI founder on why they are members of ACM.
Written by leading domain experts for software engineers, ACM Case Studies provide an in-depth look at how software teams overcome specific challenges by implementing new technologies, adopting new practices, or a combination of both. Often through first-hand accounts, these pieces explore what the challenges were, the tools and techniques that were used to combat them, and the solution that was achieved.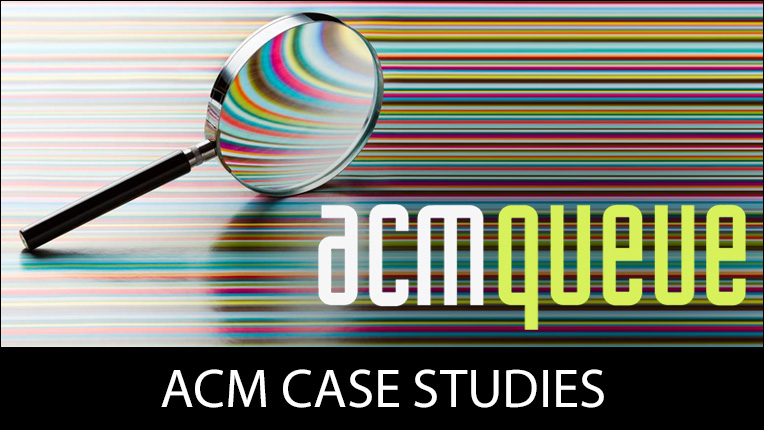 Publish Your Work
ACM's prestigious conferences and journals are seeking top-quality papers in all areas of computing and IT. It is now easier than ever to find the most appropriate venue for your research and publish with ACM.